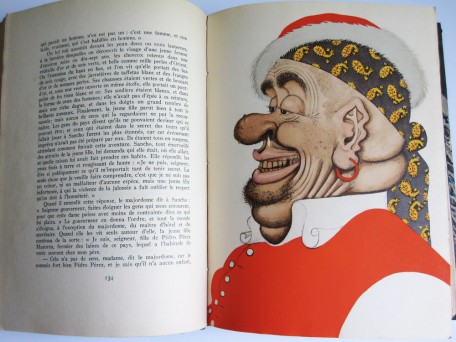 Miquel de CERVANTES, illustrated by Albert DUBOUT
L'Ingénieux Hidalgo Don Quichotte de la Manche
Paris sous l'Emblème du Secrétaire, 1938
IN-4 : 26,5 cm x 20 cm X 4,5 cm environ (hauteur x profondeur de chaque tome x largeur variable du dos)
4 thick 4to volumes. Very good condition.
First edition. Numbered edition N° 1014 on Vélin Bulky. 76 color illustrations or plates and 7 monochrome illustration by Dubout
Sold
Descriptif
This is the first edition(1938) rare and numbered.
Mention de l'éditeur : Paris sous l'Emblème du Secrétaire, 1938.
Quatre volumes plaisamment reliés en demi basane brune mordorée illustrés par Dubout, dos à 4 nerfs, décor à caissons filetés d'or.
Edition sur vélin Bulky numérotée sur 1800 exemplaires, numérotés de 289 à 2088.
Il s'agit ici du n° 1014.
Tome I : 315p., tome II : 330 p., tome III : 347p. et tome IV : 371p.
Basane faiblement émoussée et reliure frottée par endroits (voir photos) sans incidence. Très belle fraîcheur du texte et des illustrations.
Présence d'un envoi discret (ou simple annotation) manuscrit au crayon à la fin du tome III.
Les illustrations très nombreuses (76 en couleurs, 7 en noir et blanc) sont du célèbre dessinateur, illustrateur et caricaturiste Albert Dubout (1905 – 1976) qui campe avec talent des scènes triviales ou conjugales devenues sous son trait truculentes, jubilatoires.
Les dessins de Dubout ont été reproduits par le procédé Duval-Beaufumé, et coloriés au pochoir par Beaufumé et Jon et Raynal.
Le vélin Bulky, papier de création (de type Arches), irrégulier et dense, est parfaitement adapté à l'illustration lithographique.
Le rendu des couleurs est pétulant. Presque autonomes, formant un récit à part entière, les scènes illustrées par Dubout jaillissent sous les yeux du lecteur et prennent une vie propre au fil des pages qui excède la littéralité narrative.
Illustrations par Dubout, à l'intérieur du texte (in-texte) et planches hors-texte ; dont certaines illustrations (hors-texte) pleine page très spectaculaires. Aucune n'est manquante. Sans rousseur.
En raison de leur très grand nombre, toutes les illustrations contenues dans cette sublime édition ne sont pas représentées.
Lorsqu'un monument de la littérature mondiale, chef-d'œuvre d'humour (et d'ironie métatextuelle) picaresque et de réflexion sur l'Absurde, rencontre le dessin virtuose du plus grand caricaturiste du XXe siècle, référence de l'illustration, la somme de ces talents aboutit à un Grand œuvre de la bibliophilie moderne.
Dans les années 30, Dubout illustra deux autres chefs-d'œuvre de la littérature classique : Le Gargantua de Rabelais, ainsi que les Œuvres de Villon.
Cette édition originale sera rééditée en 1951 par les Editions du Valois, puis, en 1978 par les Editions Michèle Trinckvel.
Une œuvre recherchée.
Biographie
Born in Marseille, Albert Dubout (May 15, 1905 -1976) was a French cartoonist, illustrator, painter, and sculptor. After attending school at Nîmes he studied at the fine arts school in Montpellier where he met his first wife, Renée Altier.
Moving to Paris, Éditions Kra literary director Philippe Soupault hired him to illustrate his first book, Les Embarras de Paris by Boileau. Dubout continued on to illustrate several editions of famous titles of french litterature as Boileau, Beaumarchais, Mérimée, Rabelais, Villon, Cervantes, Balzac, Racine, Voltaire, Poe, or Courteline.
He collaborated on numerous magazines and journals such as Marianne, L'os à Moëlle, Paris-Soir, and Ici-Paris. He also created movie and theatre posters as well as theatrical sets.
Moreover he worked in advertising, painted oil canvases (over 70 in total) and illustrated many book covers and record sleeves. In 1953, French president Vincent Auriol awarded him the Legion of Honour. In 1965, he illustrated les aventures de San-Antonio at the request of author Frédéric Dard. In 1967 he married his second wife, Suzanne Ballivet, who was also a painter.
In 1992 a museum about Dubout was dedicated in Palavas-les-Flots.