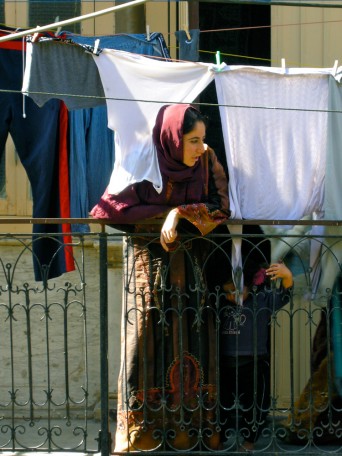 Chris D. Rasmussen
The News of the Assassination - Tripoli, Lebanon, 2008
Plexi glass
110 x 80 cm
Artist's limited edition size of 8
PRICE ON REQUEST
Descriptif
"Moments after an assassination in Beirut, killing 13 with the intention of assassinating a political figure, had brought some hysteria to the streets of Lebanon. Here a woman looks over Tripoli, with her daughter rushing to join her." Chris. D. Rasmussen.
Printed here on plexi glass piece. Photograph is printed backwards on the back of the glass thus reflecting and emphasizing the actual piece outwards. Glass pieces are created through a vacuum printing machine which relays the image perfectly.
Regarding the aim to reveal the true scale of this common bravery, photographs have been printed in large-scale size in order to be more telling of the will of those living within epi-centres of conflict. 

All photographs exhibited are available in large format, and are printed on glass or aluminum, for a truly aesthetic result. All works come with a signed document of authenticity from the hand of the artist.
Biographie
Having coined the genre, "Ricochet Images", Chris D. Rasmussen attempts to expose the everlasting effects of conflict on living environments, through his photography in over 30 countries. He discusses how we are often able to forget or look beyond the events of world history because we are not proximate to them. Thus, Chris works to expose how these events can be everlastingly visual for the millions of people living within epi-centres of conflict. Simply, the scars of conflict remain well after the event has taken place, and media coverage ends.
Chris D. Rasmussen is an international photographer concentrating, artistically, on conflict landscape. Originally from Vancouver, Canada, Chris is now based in Scandinavia, working as a portrait, documentary and interior design photographer. Exhibited in Canada, France and Norway, his recent projects include shooting The Roskilde Music Festival in Denmark for Pitchfork Media (USA), as well as continuous interior design settings published in numerous Scandinavian design magazines. Chris is an eclectic photographer always commited, creative and passionate.