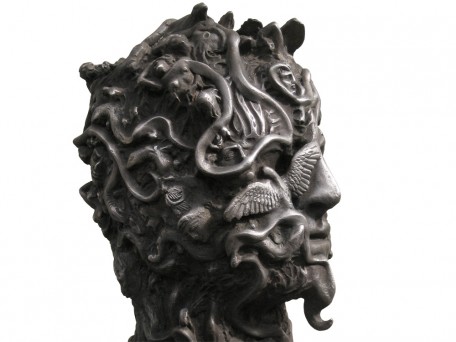 Di Martino Bruno
Maze of Mind
Bronze, artist limited edition to a number of 8, signed from the hand of the artist
50 x 35 x 30 cm
Silver patina (other patina upon request)
PRICE ON REQUEST
Descriptif
Maze of mind. When impossible becomes suddenly possible. What is usually unrepresented (good or bad feelings), hidden inside mind or under the skin is shown here above the skin and skull. Also, this perfect warrior face (rough bronze, proud behaviour, strong chin), thanks to Bruno Di Martino's art able to showing feelings, touchs us by a subtle and gothic complexity.
Purchase starts the production of the bronze (6 to 8 weeks to produce the bronze sculpture since the purchase). Personal patina possible.
Biographie
Discover his portrait and other works.
Nota bene about sculptures :
All sculptures are limited edition : artist's proof, numbered, limited to 8 numbers and signed from the hand of the artist.
Each sculpture is produced since the order and given unique by a choice of patinas (see the introduction of the works, more choice of patinas upon request).
Waiting period after the order, 2 months are necessary to produce the sculpture bought.
Shipping is fast and delivery made by hauler.