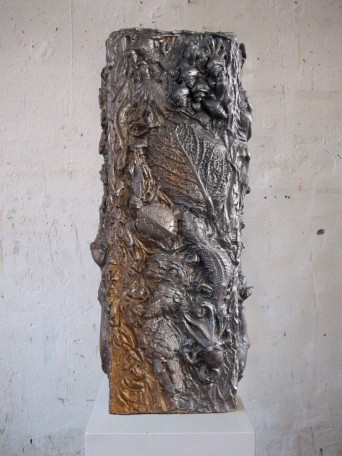 Di Martino Bruno
Monolith II
Bronze sculpture, mixed siver and copper patina
55 x 20 x 15 cm
PRICE ON REQUEST
Descriptif
Monolith II follows Monolith I but expresses the opposite.
Through this sculpture, the artist reminds the beauty of life, dreams and fairyhood.
Out of danger, the spectator tries to recognize all tracks contained into the work.
Shells, leaves, octopus… an ecological « fossil art ».
Other tracks excite an other kind of imaginary. Hidden into the forms, we discovery women or chinese emperor statue.
Cycle of art joins the cycle of life. An attracting travel.
Purchase starts the production (6 to 8 weeks to produce the sculpture since the purchase). Personal patina possible.
Addendum : Pictures of sculptures come from original plaster with its patina. The sculpture will be made by the artist in bronze since the purchase after original patina introduced by pictures or other patinas upon request.
Biographie
Discover his portrait and other works.
Nota bene about sculptures :
All sculptures are limited edition : artist's proof, numbered, limited to 8 numbers and signed from the hand of the artist.
Each sculpture is produced since the order and given unique by a choice of patinas (see the introduction of the works, more choice of patinas upon request).
Waiting period after the order, 2 months are necessary to produce the sculpture bought.
Shipping is fast and delivery made by hauler.