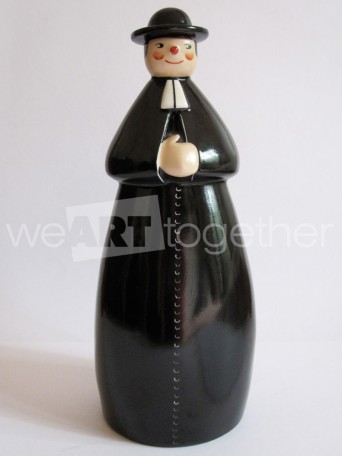 ROBJ
Art deco liquor bottle, the Benedictine
enamelled porcelain
26 cm height - 10 cm diameter
Circa 1928-1930
Fine condition
750 €
Descriptif
Rare liquor bottle from Art deco epoch designed by the famous brand ROBJ. Fine condition. Please feel free to contact us for any question you have.

Dans le plus pur style Art Déco, époque 1928/1930. Bouteille à liqueur en porcelaine émaillée signée Robj Paris sous la base, représentant un abbé dans un habit bénédictin sobre et élégant (que l'on qualifierait aujourd'hui de design). Il s'agit de la bouteille dite "Bénédictine".

Les flacons à liqueur Robj, toujours très recherchés, sont véritablement la signature de cette marque décorative et créative qui naît en 1908 de la rencontre de Lucien Willmetz et de Jean Born, (dont le nom, déformé, ajouté à l'initiale de son prénom, donnera ROBJ).
Objet en parfait état, sans éclat ni fêle.