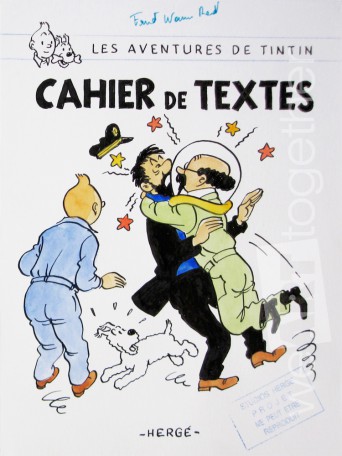 Hergé's Studio
Original signed drawing inspired by Destination Moon representing Tintin, Snowy, Haddock & Calculus
Indian ink in colours, a drawing made by Hergé's Studios for the front cover of a Oberthur's book in 1980
25 x 18,4 cm (9.8 in. x 7.2 inches) just for the part drawn. - (14,2 inches x9,8 in. with the other part without drawing) - unframed
In two parts on nice thick Canson paper
1 800 €
Descriptif
Marvellous and so mastered original indian ink drawing made by Hergé's Studio for the publisher Oberthur. Many talented draftsmen and cartoonists worked for Hergé.
This drawing -directly inspired by a strip of Destination Moon- was for the cover of a new children book that Oberthur were going to print.
It represents a amazing and funny scene from Destination Moon where Calculus is trying to kiss Haddock although he still wears his helmet.
Drawn model for this cover book, that's why it embodies a printing mention as : « fond warm red ». All is drawn, even the title written by hand, or Tintin and Snowy's heads above.
It's signed (twice hand-stamped). A good investment for this perfectly authentic artwork highly aesthetic and decorative.
© Copyright Hergé / Casterman - Moulinsart 2021