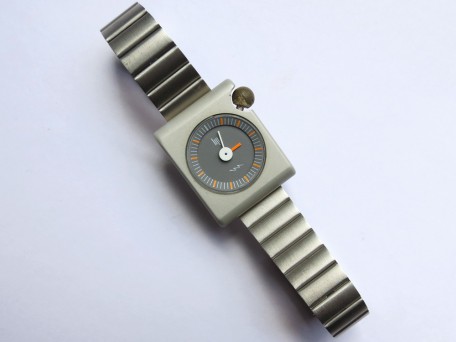 TALLON Roger
LIP lady watch, Mach 2000 series original edition, circa 1975
Rectangular metal case (colour aviation grey), size : 24 mm X 30 mm
Metal bracelet, Electromécanique R50
In its genuine condition, works perfectly, very good condition
Sold
Descriptif
Lady watch created by the brilliant french designer Roger Tallon (1929-2011) – the man of the TGV and Eurostar - for the high quality french brand LIP. This is well the original edition produced circa 1975.
LIP do not produce anymore this very nice model became rare which belongs to the most famous series of LIP watch, the Mach 2000 series.
The watch works perfectly. It is in a real good looking condition and has been few worn. Very few signs of use.
The winder shows signs of wear and oxidation (see the pictures).
Once sportive and urban, light and so stunning, luxurious in its quality and modern, the watch hands are two tones, orange and white on a aviation grey background.
A superb all original vintage Roger Tallon watch for LIP. A design watch by one of the most important french designer of the industrial design.