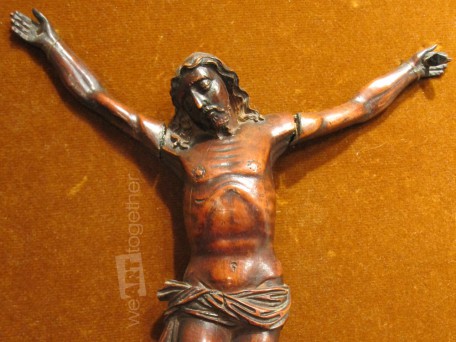 French school, 17th century
Carved Christ in boxwood, XVIIth century, post Renaissance art, on a orange velvet support
Wooden sculpture
Christ : 18 x 14,5 x 2,5 cm - with its support : 23 x 30 cm
900 €
Descriptif
This magnificent Christ carved in boxwood from the 17th century gets a beautiful patina. Notice it's just supported by a orange velvet without the expected cross.

Émouvant Christ en buis sculpté à la superbe patine.
Haute époque, cette pièce d'une très grande finesse de la fin du XVIIe siècle a été expertisée par un expert agréé en Art sacré.
Cette figuration artistiquement élégante du Christ crucifié est plus sensible que doloriste (expression douce du visage, plein de l'ovale) ; la croix, absente de cette création, est métaphorique.