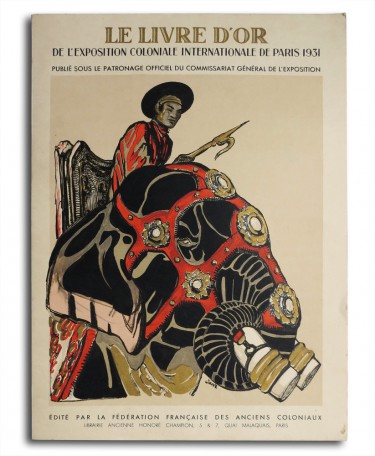 JOUVE Paul (signed front cover drawing), collective french book
Le livre d'or de l'exposition coloniale de Paris 1931, published by Librairie ancienne Honoré Champi
Publié sous le patronage officiel de la Commission générale de l'Exposition par la Fédération Française des anciennes colonies, couverture de Paul Jouve, gravure sur bois de Camille Beltrand, cartographie de la Maison Forest.
Préface de M. le Maréchal Lyautey, introduction de Paul Reynaud
In folio, 343 p, front cover on imperial Japan paper created and signed by the famous Art deco painter Paul Jouve. Gilt decorated title page. Illustrated with black and white photographs (almost 600) and 18 colours maps.
Excellent condition of the book (few signs of use) with its original golden case usually missing. Scarce.
220 €
Descriptif
A survey about the colonial exhibition occurred at Paris in 1931, especially searched because of the Paul Jouve colour front cover signed (printed signature) which represents a man driving an elephant. Paul Jouve is one of the most famous and valued artist who belongs to Art Deco.
In very fine condition.