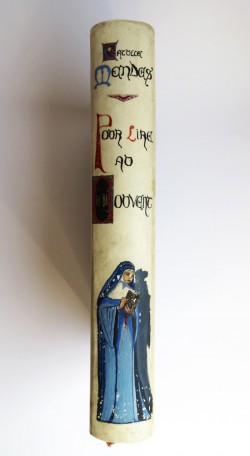 MENDÈS Catulle
Pour lire au couvent, Marpon et Flammarion, Paris 1887, original edition, hand drawn spine, curiosa
Sixty drawings from Lucien Métivet. In octavo. Stunning original drawing on the spine (title and decorum hand drawn). Vellum and blue morocco. Some rednesses and signs of use but fine condition.
280 €
Descriptif
Original edition of this pleasant short stories book from Catulle Mendès, a french writer representing a "precious-end-of-century-aesthetic" especially liked by Paul Verlaine.

Here this gentle curiosa is in a vellum and morocco binding with a spine decorated by an original drawing of a nun reading the Catulle Mendès book.