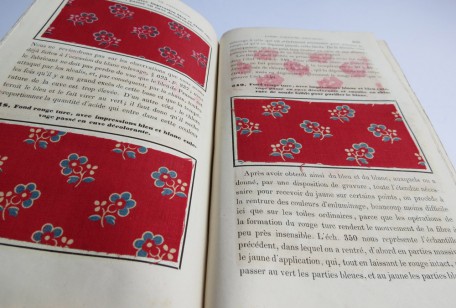 PERSOZ Jean-François
Traité théorique et pratique de l'impression des tissus, Masson, Lyon, 1846
Complete original edition. 4 vol. 8vo in calf, superb original binding signed by the master Ehkirch, illustrated by 165 plates and 429 samples of fabrics.
Very fine condition. Exceptional and scarce original edition masterly bound, important work still innovating about fabrics design
Sold
Descriptif
Extremely rare book and original edition in this condition and quality of binding. Even its flyleaves are decorated with black ink as a « toile de Jouy ».
A master edition by a famous french chimist from 19th century about fabrics design which brings technical and historical informations but too ideas for modern designers.
Many plates and samples of fabrics in fresh condition.
Very scarce. The complete description follows in french. Contact us for any question you have.
Exceptionnelle et rare édition originale d'un ouvrage en tous points considérable, dont l'apport scientifique et technique est encore actuel, et d'un intérêt bibliophilique qu'accentuent : et la qualité et le nombre des sublimes échantillons de tissus intercalés en in-texte ; et l'attention portée à la qualité de la magnifique reliure signée par un grand maître alsacien (reliure de Ehkirch à St. Amarin).
Cette très belle édition du grand chimiste français Jean-François Persoz, parue sous la Monarchie de Juillet, est donc enrichie de 165 figures et 429 échantillons de tissus intercalés dans le texte.
Veau glacé de l'époque, dos à nerfs ornés.
Pièces de titre et tomaisons en maroquin rouge et vert.
Encadrement d'un quintuple filet doré et d'un filet doré à fleurons en écoinçons au centre. Dentelle intérieure.
Stupéfiantes pages de garde à la plume figurant en trompe-l'œil- une toile de Jouy.
Reliure signé par Ehkirch à St. Amarin (Alsace).
Echantillons de tissus d'une très grande fraîcheur.
Si Persoz traite en chimiste de l'impression des tissus apportant un savoir technique qui est encore aujourd'hui valorisé à l'international (ouvrage dont on peut trouver des copies numérique en Inde, par exemple), certains échantillons de tissus excèdent la valeur documentaire historique et technique, pour, par l'audace de leur motif, être considérés comme une source d'inspiration d'une grande modernité pour les designers textile.
Ouvrage collationné complet de ses 4 tomes. A noter qu'il existe un atlas in-4 que nous ne joignons pas.
Exceptionnelle édition originale, rarissime dans cette condition, unique dans cette reliure signée.