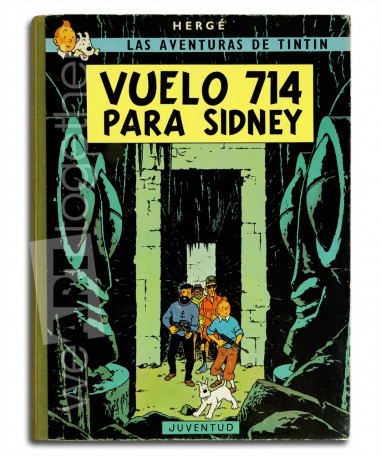 Hergé
Tintin, Vuelo 714 para Sidney, Juventud (publisher), 1st spanish edition
A4 hardcover, green cloth spine with printed title
Fine condition
270 €
Descriptif
Published in 1969 by the spanish publisher Juventud, this is well the first spanish edition of Flight 714.
We can observe two specificities of this edition : the green cloth which only exists in this edition and the thickness of the board and paper.
Very good condition :
Just some little rubbings to corners and to edges but cover is bright and this book appears in very good condition.
First light blue flyleaves have a slight soiling. But superb inner condition, firm binding, fresh pages, book very few read.
A quite rare first foreign edition in fine condition.

© Copyright Hergé / Casterman - Moulinsart 2016