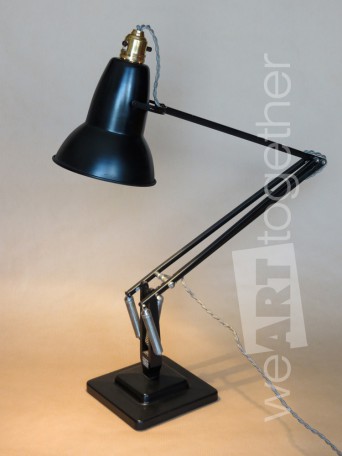 TERRY Herbert
Anglepoise 1227 lamp in vintage original edition designed and produced by Herbert Terry, circa 1940
Two tier steel base, metal arms and reflector, cotton wire, Crabtree's fitting brass with porcelaine and bakelite switch
Height unfolded : 94cm. Base : 15cm X 15cm
Sold
Descriptif
Iconic ! Both flexible and stable thanks to its springs inspired to George Cawardine by the human arm working.
Since 1935, this lamp was produced and designed for domestic market by Herbert Terry who signed the Anglepoise licensing agreement with George Cawardine.
In 1938, Terry designed a last time the Anglepoise 1227, changing three tier base and 25 watts bulb for a two tier base and 40 watts bulb.
That's this 1938 old version on sale here.
Only painting and cotton wire are modern.
Heavy vintage Crabtree's fitting brass with porcelaine and a bakelite switch is circa 1938 or forties old like the bakelite outlet and all the lamp.
A genuine vintage Anglepoise 1227 by Herbert Terry – circa 1940 - in a rare fine condition, perfectly working.