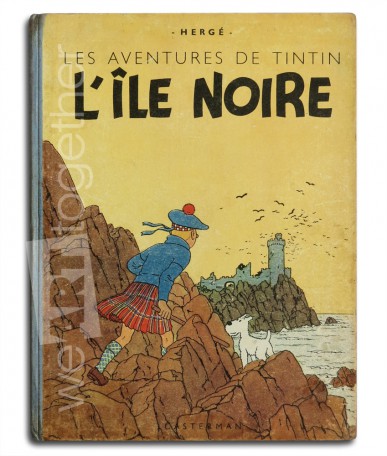 Hergé
Tintin, L'Île Noire, dos bleu, rarissime édition « Mer Rouge », 1944, très bon état
Very scarce book - rare edition called "mer rouge" (red sea) because of a printing error
High value
Sold
Descriptif
Hergé 's works acquired a very reliable and even a progressive presence in the art market. Rare, black and white original editions of Tintin, first colour editions are today the highest valued among of comics. A perfect and nice investment.
Hergé, Tintin - L'Île Noire (The Black Island)
A23 bis
sans N° d'autorisation
Blue spine
Dark blue flyleaves
Edition called « Mer Rouge » (red sea) because of stunning colors page number 47 (pull Tintin rose, Kilt vert, Mer rouge) due to a printing error.
Published by Casterman in 1944.
High value especially rare book.
in VERY GOOD CONDITION with some normal defects.
Feel free to contact us for any question you have.

Album rarissime coté au BDM 2011-2012 à 4000 € pour un simple bon état.

En cette année 1944, qui vit se succéder 3 réimpressions de l'Île Noire, le papier employé était extrêmement fragile et la qualité d'impression spécifique à un papier de guerre.
En dehors de la page 47, dont l'erreur d'impression répertoriée confère à cet album une grande rareté et un tirage très faible, les autres pages de cet album ont un charme particulier, cela dû à l'impression d'un papier fragile à la texture du buvard et dont la manipulation dut toujours être précautionneuse ; les couleurs sont chaudes et les points d'impression visibles à l'œil nu dans les aplats.
La fragilité intrinsèque au papier de guerre alliée à cette erreur d'impression rendent les exemplaires "Mer rouge" très rares sur le marché en simple bon état et rarissimes en très bon état comme c'est le cas de cet exemplaire aux défauts mineurs.
Cet exemplaire est très bon état.
Très beau 1er plat aux couleurs chaudes et vibrantes, légèrement frotté (uniformément)
Dos bleu en bon état ; légèrement insolé en partie extérieure, plissé sur quelques millimètres en approchant des coiffes ;
Coiffes en bon état, renforcées par une discrète restauration
Coins très peu frottés presque piquants
Pages de garde en très bon état
Pages intérieures en très bon état général (usures d'usage bénignes et léger manque de papier dans une marge en bas de page) ; le premier cahier est partiellement décousu mais reste bien solidaire de l'album.
Un album rarissime bien conservé. Une curiosité à posséder.

Une cote très importante de 4000 € (pour un simple bon état).
© Copyright Hergé / Casterman - Moulinsart 2013