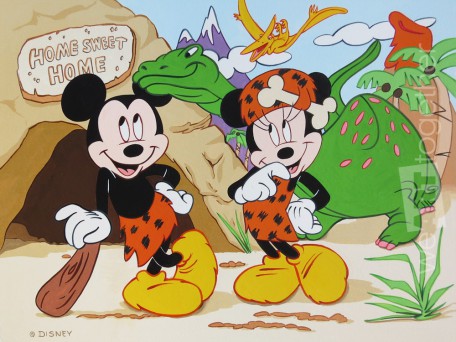 DISNEY Studios
Mickey Mouse and Minnie Home Sweet Home, an original gouache in colors, circa 1950
Charming topic for this original gouache created with the aim of a project of advertising illustration, representing Mickey Mouse and Minnie in a funny prehistoric background
Size : 29,5cm x 23, 5 cm for the gouache only – 51 cm x 41 cm with its frame
Framed and signed
800 €
Descriptif
« Home Sweet Home », an original gouache in colors, circa 1950, representing Mickey Mouse and Minnie in a funny prehistoric background, framed and signed
Charming topic for this original gouache created with the aim of a project of advertising illustration
Size : 29,5cm x 23, 5 cm for the gouache only – 51 cm x 41 cm with its frame
Created in the Fifties by Disney Studios, this nice and perfectly signed original gouache with fresh colors occurs in a prehistoric background.
Mickey Mouse and Minnie smile and seem very happy in their homo sapiens clothes with their anachronistic friends (dinosaurs) and their « home sweet home » under the shape of a cave.
A humoristic, charming and tender gouache that would be perfect above a vintage design furniture or more contemporary. See our vintage design selection
A very decorative gouache.