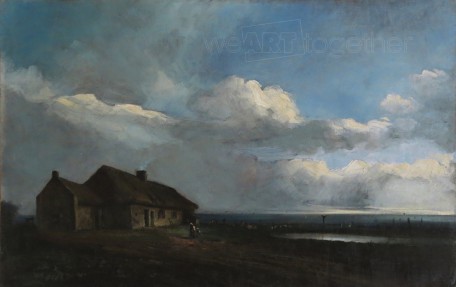 DUPRÉ Jules - 1811-1889 (Attributed to)
A child and his father in a farmyard near a pond and the sea beyond
Oil on canvas - XIXth century - unframed
Size : 54cm x 34cm
Sold
Descriptif
Fine oil on canvas from XIXth century so near of Jules Dupré's works.
Like in a Dupré signed painting we meet the same spectacularly contrasted pastoral landscape here between sea and countryside with a child and his father near a farm and an outlined cattle.
Dupré was considered as the « Mozart of landscapes », the new french Ruysdaël with sublime skies, subtle dark colors, and high contrast like Rembrandt.
In this artwork we find again the same taste as Dupré showed for brilliance (from water, a river and often, as here, from a pound).
The value for a Dupré's painting is around 35 000 euros.