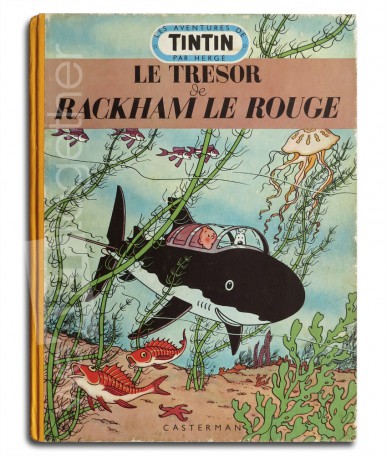 HERGÉ
Tintin, le Trésor de Rackham Le Rouge, édition au médaillon bleue, dos jaune, B6, Casterman, 1952
Very fine condition +
550 €
Descriptif
Nice edition in very good condition +.
Only the edges rubbed but few defects. Colors of cover are bright. Please contact us for any question you have.

En dehors de frottements marginaux, décor du premier plat très préservé pour cette belle édition au médaillon bleue en très bon état +.
Peu de défauts (les frottements impactant uniquement les bords des plats), les plats sont lumineux.
Dos jaune de bel aspect aux coiffes un peu tassées.
Coins piquants.
Comporte le nom de l'ancien possesseur dans l'emplacement réservé à cet effet sur la page de garde.
Intérieur frais.
Très bel exemplaire.
© Copyright Hergé / Casterman - Moulinsart 2016