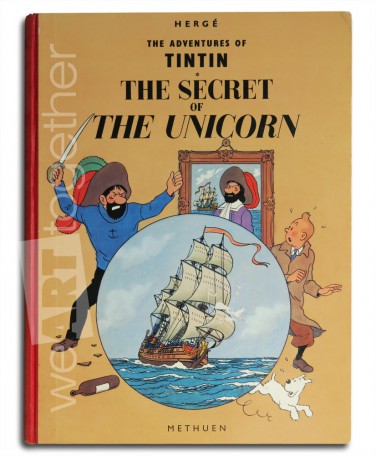 HERGÉ
The adventures of Tintin, The Secret of the Unicorn, 1st UK edition, Methuen, 1959
Very good condition – rare
380 €
Descriptif
This is here a first 100% UK edition, published by the historical british publisher Methuen in 1959. Third title which has been published by Methuen after The Crab with the Golden Claws and King Ottokar's Sceptre (1958).
Seven years before, in 1952, the belgian historical publisher of all original editions of Tintin, Casterman, decided to print two titles in english lenguage : The Secret of the Unicorn and The Red Rackham's Treasure. No more than two titles were published by Casterman.
This one, for the first time published by the UK publisher Methuen, was translated by Lonsdale-Cooper and Michael Turner and is considered as the first official english translation.
Then a license was allowed to Methuen and Co London for publishing all Tintin comics in the United Kingdom.
Today this adventure linked to The Crab with the Golden Claws and Red Rackham's Treasure has been successfully directed by Spielberg and will release worldwide after Europe.
The rare books or Tintin collectors could see that in a first UK edition, pleasure of reading as collection become more intense.
Quality of cover (more bright than the original french editions), paper and colours are differents, better in fact, and once you read a first edition that's a renewed exciting discovery.
Notice the picturial back cover includes some description that never existed in other editions than first UK and first US editions (by the way their introductions are not the same).
Very good condition :
Front cover with bright and fresh colors, very nice condition despite of rubbings focused on the boat

Back cover is beautiful, marginal tiny stains

One corner with just a little shock but corners in quite pricking condition

End papers are intact and binding is perfect.

Nice inner condition. Few normal defects (as little marginal stains linked to reading).

A rare first Methuen edition, published in 1959, in a very good condition.

© Copyright Hergé / Casterman - Moulinsart 2016