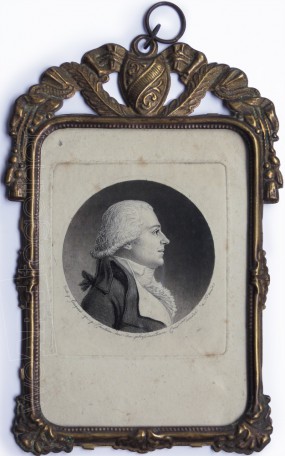 CHRÉTIEN Gilles-Louis (1745 - 1811) / Fouquet
French Directory portrait of an aristocrat drawn by par Fouquet, engraved by Chrétien Cour St Honoré
Physionotrace from the end of 18th (French Directory) drawn by Fouquet and engraved by Chrétien circa 1796-1798
Framed : around 16cm x 10 cm - 5,5cm diameter (portrait only)
From Count Sforza Collection
Nice brass frame with a blazon - Fine condition - Superb proof
Sold
Descriptif
Magnificent portrait of an aristocrat produced under French Directory circa 1796-1798, drawn by Fouquet one of the collaborator of Crétien and engraved by Gilles-Louis Chrétien himself, the inventor of physionotrace.
A fine portrait of an handsome man nicely framed.
From the prestigious Count Sforza collection, a diplomat who fighted Fascism.