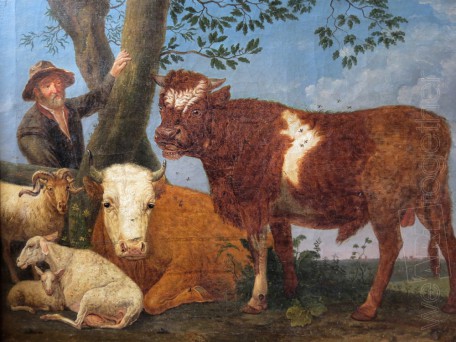 Dutch school from XIXth century, after "The Bull" by a follower of Paulus Potter
The bull or Landscape in shape of portrait of a shepherd and his herd into the dutch country
Oil on canvas
Framed 83,5 cm x 59 cm – A vue : 70,5 cm x 46,5 cm
Gilt wooden frame
1 400 €
Descriptif
Dutch school of XIXth century after the famous painting The Bull by Paulus Potter (1647, Mauritshuis). The work is naive but succeeded and so typical of dutch school with its luxuriance and the painting of insects near of downy animals.
The sheperd is watching the star of the painting, a big bull while itself, the retort cow, ram and lamb under the ewe are watching us. The painting of animals –as a portrait – takes a big part of the painting. The landscape who contains at the background a nice village disappears behind the modernity of this work : animals portrayed as human beings. Natural landscape itself is a pretext.
A moving scene for a modern bucolic portrait !