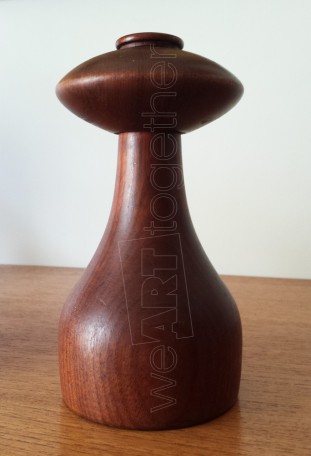 Jens Harald Quistgaard (1919 – 2008)
Pepper mill salt shaker in teak wood designed by Jens Harald Quistgaard for Dansk Designs LTD, circa 50's, Mushroom model, 7 holes, one removable lid
Early steel grinding mechanism by Peugeot Frères Lion, earliest logo Dansk Designs LTD, Denmark JHQ embossed in the teak wood
310 €
Descriptif
Rare and collectible big size pepper mill combo including a salt shaker, designed by the famous dansk designer Jens Harald Quistgaard produced from 50's.
So elegant organic form in shape of mushroom.
Superb warm patina of the teak.
High quality fabrication- it was handcrafted in Danmark.
Very fine vintage condition and works perfectly.