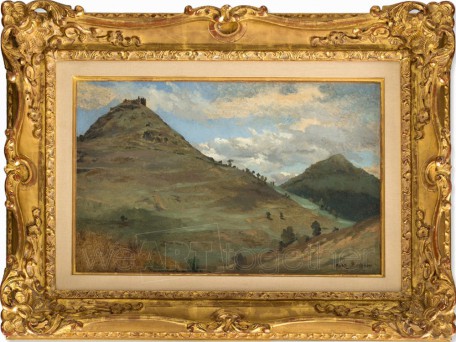 BONHEUR Rosa (1822 - 1899)
View upon Montségur castle, number 819 of the famous Rosa Bonheur sale in 1900 under the name « the peak in the valley »
Oil on canvas signed lower right by the artist, and at the back the seal of « vente 1900 Rosa Bonheur »
Size framed : 44.5 x 58.5 cm - 25,5 cm x 40 cm (painting only)
Magnificent gilt wooden frame
Sold
Descriptif
Fabulous atmospheric landscape painted by the french artist Rosa Bonheur, around 1850. The artist has depicted a view of the Montségur, probably from the mountain pass of Montségur, located in the eastern Pyrenees, hiding a medieval castle of the Cathars at the summit of the « pog ».
Well know as animal painter in the 19th century, Rosa Bonheur was famous especially among british and american collectors.

Her later works were the time for pure and splendid landscape painting so succeeded in this oil.
Signed lower right 'Rosa Bonheur' by the artist, and with a seal 'VENTE 1900 ROSA BONHEUR' on the stretcher.

The paint surface has had recent intervention. We see traces of the old varnish remaining on the signature. And few scattered abrasions visible to the naked eye, but its condition is very good and this is one of the most beautiful pure landscape never seen signed by Rosa Bonheur.
A true meeting between an historical spiritual medieval place and a great painter, a religion persecuted wanting for freedom and a so free and talented artist.
Biographie
Rosa Bonheur was born in Bordeaux city in 1822.
She was immediately recognized as one of the best animal painters of the 19th century.
Her father, Raymond Bonheur (1796-1849), was a draftsman and landscape painter himself and her brother will be a painter too.
Rosa Bonheur exhibited at the Paris Salon her first depictions of cattle in 1848 and will be acclaimed.
She is considered as a pioneer in her profession as a female painter her style, melting sense of nature and Realism.
She travels and painted Buffalo Bill and became very famous and liked from american collectors. The Queen Victoria appreciated her strong painting reflecting her free personality.
Her masterworks are in the international museums as « The horse market » exhibited in the Metropolitan Museum of Art in New York.
Near Paris, Château de By, today a museum dedicated to the artist, preserves the Rosa Bonheur's Atelier.
There she lived and working during forty years surrounded with pets and wild animals.
Later painted, poetic contemplation around colors and forms since a natural instant, her pure landscapes results of her artistic maturity.