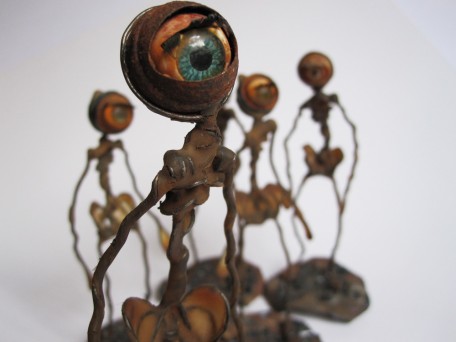 BISSONNIER Sylvain
The "Dérobé", a contemporary sculpture
Wire, latex, eye of doll
Height (regarding Dérobés) from 13,5 to 16,5 cm - Width of the base : ≃ 7 cm
150 €
Descriptif
The "Dérobé", a fine Space Cyclop. A stunning and funny sculpture by the contemporary artist Sylvain Bissonnier. The eye of human soul and dreams.
Belonging to an artistic handmade series, each scupture is single and different than other one. Few works existing.
Complete english translation on request.
Porte dérobée sur l'inconscient et l'âme des hommes, personnage récurrent aussi étrange qu'attachant de l'oeuvre sculptée de Sylvain Bissonnier, cette créature cyclopéenne réalisée en fil de fer, latex, et oeil de poupée traduit parfaitement la recherche et singularité de ce jeune artiste.
Personnage issu d'une statuaire multiple, aucun Dérobé ne ressemble tout à fait à un autre, chaque pièce est unique.
Plusieurs Dérobés sont disponibles dans notre galerie.
Biographie