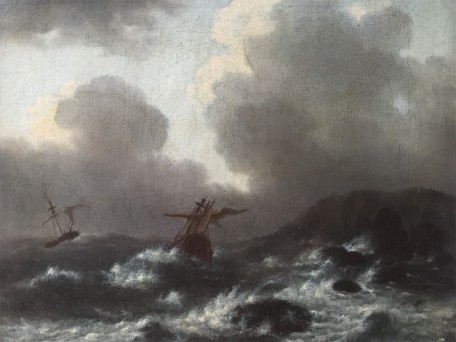 Flemish school from XVIIth century, Bonaventura PEETERS the elder circle
Sailing ships on the storm
Oil on canvas
Painting size only : 28,5 cm x 33,5 cm / Framed : 41,5 cm x 46,5 cm
Old wooden frame with some accidents
3 900 €
Descriptif
Flemish school in the circle of Bonaventura PEETERS the elder, recognized to having painted some of the finest marine paintings, often dark, representing here two vessels in a dangerous rough sea by a stormy weather.

The danger of a journey by seas as an echo of the vanity of human beings, this is the main and only topic of this incredible painting so intense, so dark. The palette used focused on grey and black colors with just shimmering white touches suggesting the strenght of waves translates that few hope is possible.
On board we can distinguish the crew but whereas the coast let on the shade is near, the storm seems too deep to allow a better end than a shipwreck.
A fantastic marine painting from 17th century.
Similar artworks :
« Sea Coast with a storm » at Fitzwilliam Museum and « Sunlight on a stormy sea », both by Bonaventura Peeters I, at National Maritime Museum of London.