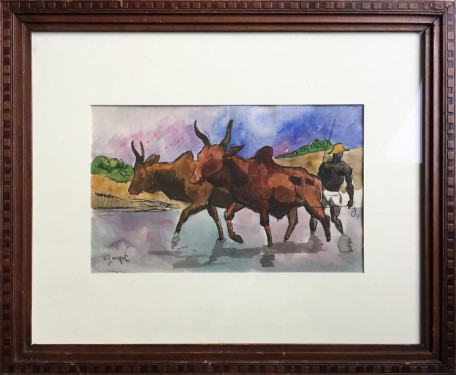 Georges Lucien GUYOT (1885 – 1973)
Africa country scene, circa 1945
Watercolour and black ink, signed by the artist
Drawing only : 20,4 cm cm x 12,4 cm – Framed : 33,7 cm x 27,7 cm
Wooden frame
650 €
Descriptif
A superb original drawing with watercolour and black ink from the hand of George Lucien Guyot, an artist which work was often near of Jouve.
Belle aquarelle originale au dessin enlevé signée en bas à gauche au pinceau par l'artiste animalier Georges Lucien Guyot ; à la fois dessinateur, sculpteur et illustrateur son travail tend souvent à se rapprocher de celui Jouve ; représente ici une scène de la vie africaine des années 40.
Au cœur de cette réminiscence africaine, une scène de brousse particulièrement authentique et vivace tissant une ruralité joyeuse et sereine.
Le mouvement de l'attelage de vaches cornues, emmené dans un paysage de brousse par un éleveur africain athlétique, est ponctué de couleurs chatoyantes.
L'Afrique rayonne et attire par son authenticité même, plus encore que par son exotisme.
Réalisée par cet artiste à la cote intéressante circa 1945, avant la parution du Livre de la Brousse que Guyot illustrera en 1946.