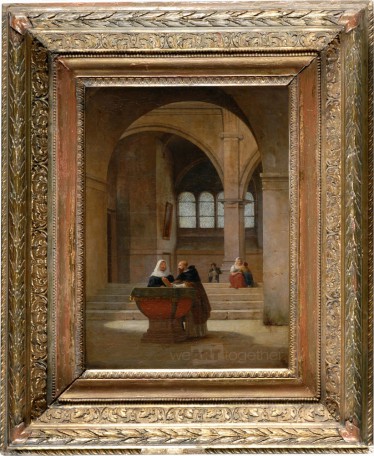 RONMY Guillaume Frédéric (1786-1854)
Inside an italian baptistry, painting signed by the artist
Oil on canvas signed by Ronmy and framed
Work : 23 x 32 cm - With its frame : 50 x 42 cm / Thickness of the frame : 6,5 cm
Antique gilt frame
First quarter of 19th century
Sold
Descriptif
This "Conversation Baptistery" carries with it the Middle Ages (hence the name of "Troubadour art" or "Troubadour Style") a pictorial movement in order to restore the medieval splendor perfectly represented by the french painter Guillaume Frédéric Ronmy.
Oil on canvas signed by Ronmy. Few restorations. Nicely framed.
Framework from the nineteenth, called "Barbizon" with a copper gilding. Size: 23 X 32 cm / With frame: 50 x 42 cm

Cette « conversation au baptistère » porte en elle ce Moyen Âge (d'où le nom d' « Art Troubadour », encore nommé «Style Troubadour », courant dont est issue cette œuvre de Ronmy) mystique, élégant, étudiant les textes sacrés, trop souvent et injustement réduit à une régression historique. L'Art Troubadour est donc ce mouvement pictural qui vise à restaurer les fastes médiévaux, et ainsi prend à rebours les stéréotypes que nous associons habituellement aux Bas et Haut Moyen Age.

Une atmosphère impressionnante se dégage immédiatement de cette huile sur toile. De par l'architecture du baptistère, grandiose, et de par cette lumière, étrangement douce, qui se fraie un chemin jusqu'à ces deux moines, eux-mêmes penchés sur un livre sacré.
Atmosphère grandiose et paradoxalement studieuse sans cesser d'être intime : une mère assise en haut des marches parle à son enfant. Son habit permet de situer la scène en Italie.
Cette huile sur toile a été habilement restaurée (voir photo du dos du tableau) et revernie.

Un repeint est également à noter (le moine voilé de gauche).
Ainsi restaurée, elle est en parfait état et prête à traverser d'autres siècles.
Magnifique cadre d'époque XIXe, dit de «Barbizon », doré au cuivre - quelques éclats sont à signaler.
Un tableau superbe d'un artiste majeur aux oeuvres particulièrement rares sur le marché.

La cote de Guillaume Frédéric RONMY est stable à 10.000 euros (La cote des peintres, Akoun 2009).
Biographie
Guillaume Frédéric Ronmy (1786-1854), est un peintre de l'école Rouennaise.
Il a été l'un des peintres phare de « l'art troubadour », baptisé ainsi pour qualifier des peintures du début XIXème illustrant le Moyen Age.
G-F Ronmy est présent au musée des Beaux-Arts de Rouen, au musée Carnavalet à Paris, au Petit Palais (toujours à Paris), et au Museo di Roma en Italie.