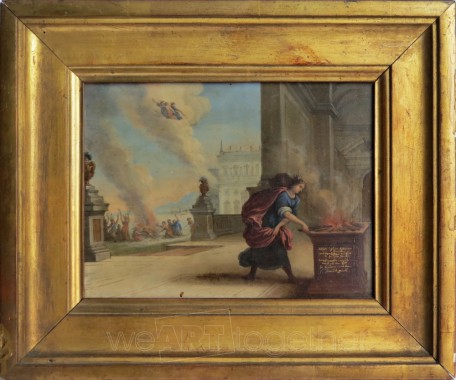 Allegorical school (the painting is signed) from the 18th century, circle of the swedish painter Adolf Ulrik Wertmüller (1751 - 1811)
The Queen and the human sacrifice
Oil on copper from the 18th century signed at the bottom to the right
Size of the painting only : 20 x 15 cm / Framed : 31 cm x 28 cm
Framed with a gilt wooden period frame
Sold
Descriptif
An incredible mistery surrounds this fine oil on copper dating from the 18th century. Superb smoothness in the touch of the brush.
An antique queen lights a fire when her people give a human sacrifice and seem to pray three goddesses (Athena, Aphrodite and Artemis ?).
If the scene and clothes are coming from Antiquity, the architecture of the city seems french circa 17th-18th. This neo-classic melting pot reminds again Adolf Ulrik Wertmüller who was both very inspired by France and french paintings (1751 - 1811) and represented mythological scenes.
Signed at the bottom of the altar to the right by the artist. A signature quite hard to decipher but near (as the work) of the swedish painter Wertmüller.
Finally notice the gilt letters written in a nordic language on the altar. Wertmüller used gold in his most famous painting : "Danaé et la pluie d'or".
A little used (see the pictures) but in very good condition. Perfectly framed with a gilt period frame.