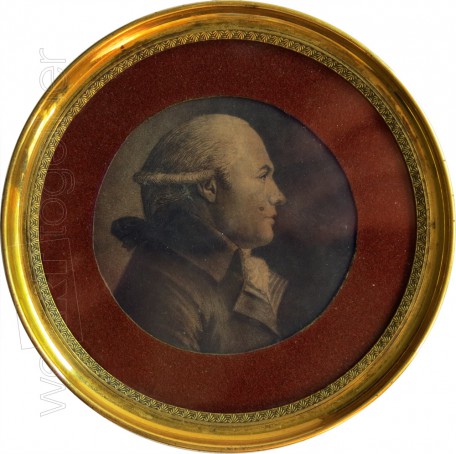 Chrétien Gilles-Louis (1745 - 1811) - Edmé QUENEDEY (1756-1830) attributed to
Portrait of a french astronomer probably drawn & watercolored by Quenedey & engraved by Chrétien
Physionotrace portrait in watercolor, circa 1788/1789
5 cm diameter (engraving size only) - Framed : 8,5cm diameter
Prestigious Count Sforza collection
Nice gilt brass epoch frame with a red border
Sold
Descriptif
Physionotrace probably drawn and watercoloured by Edmé Quenedey in a superb gilt brass frame. Produced circa 1788-1789.

This is the portrait of an important french scientist, the astronomer Jean Baptiste Joseph Delambre. His name has been written upon the Eiffel Tower.
An elegant man magnified by the subtle work in watercolor and great smoothness in the drawing and engraving phases.
The physionotrace watercoloured are more rare than only in black and especially this one early produced and representing a great name of french science.

Comes from prestigious Count Sforza Collection, important diplomat who fighted Fascism.